GrainFlow operates a network of 19 storage centres in Queensland, New South Wales, Victoria and South Australia. The focus of these operations has been the efficient and cost effective receival, storage and outturn of grain and oilseeds.
In 2011 Cargill Australia acquired the GrainFlow storage and handling business and the AWB trading and origination arm from Agrium. Cargill is a major marketer of Australian grain and oilseeds supplying our crush plants and flour milling JV requirements as well as domestic and international customers in the food processing, animal feed and meat industries.

GrainFlow has sought to introduce a strong customer focus to the grain storage and handling industry. Farmer and grain marketer needs are paramount in GrainFlow's business philosophy. Among our achievements since entering the industry are increased harvest and grain outturn operating hours, improved truck turnaround times, stronger industry EH & S focus and retained pesticide free status through not using contact insecticides.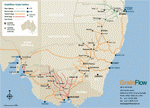 GrainFlow Centres Detailed Map
Accreditations
GTA